The Bornhardt Family trip USA 1999
The 16.th of July
50th years celebration in Portland
Congratulation! We will be there just in time!
Home to the Front Page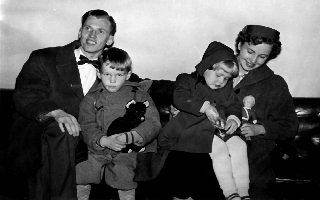 The question,
"If a tree falls in the forest
and there's no one around,
does it make a sound?"
may finally be answered the 16th of July
That's when Bente, Joern-Orla, Grethe and Knud-Erik will join your 50th anniversary in Portland.


"Faster" Gurli and Uncle Ben in Nov'56 in the airport of Copenhagen on their way to America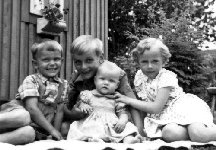 Click here to see the cousins before they left Denmark Hannah, Peter, Inge-Lise and Knud-Erik
The picture was taken in our grand daddies garden in 1955 - we think?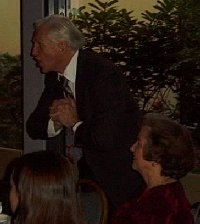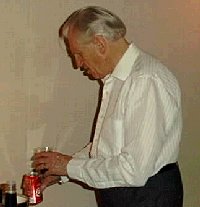 The speech
The drinks
The children
The cousins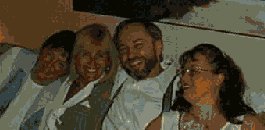 50th years celebration in Portland
While our children was parked at the RV-ground in the centre of San Francisco we four adults flied to Portland for the 50th year celebration.
It was a fantastic experience to be there.
We met our Cousin Peter in the bar for a last minute drink.
I got a whiskey on the rocks while the other checked in at the hotel.
Early next morning we flied back again.
Thanks to Faster Gurli and uncle Ben for a lovely evening.
Time and the Stork
Benny Andersen - A Danish Poet

I've heard about time
I've heard it can be long
I've heard you can run short of it
That it can be lost or won
That it can be due or precious
Right or wrong
Out or in
I've heard a lot about time
But I've never seen it.

As a child I imagined time
Like a sort of big beautiful bird
Probably a stork
Because I had heard
That time could fly
But also that it sometimes stood completely still




I loved time at that time
Time with its long red beak
Standing still on one red leg
Bending over a deep dark pond
Before slowly unfolding its broad white wings
And floating for hours
Between heaven and endless meadows

But later I became confused when I heard
Of the wheels of time
Of a waste of time
And that time was actually money
Or that time was out of joint and so on
So eventually I lost
My childhood belief in the stork
And in fact
We have far less storks in Denmark now
Than we had at the time I believed in them

I've heard about time
I've written poems about time
I've written and heard a lot about time
I've had my time
Sometimes I've even been on time
But still I haven't seen it.





The picture to the left is Joyce and her daugther.
It was Joyce who gave us the last kick in our pants to go to Portland.

Mail to: Knud-Erik Bornhardt
eller mail to: Jorn-Orla Bornhardt.
Home to the Front Page

Opdated the 20th of July 1999