The Family Bornhardt trip USA 1999
Thursday the 8th of July (Part 1)
Mesa Verde National Park
Home to the Front Page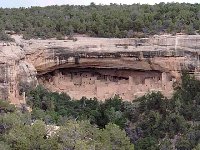 Mesa Verde National Park

Established by Congress on June 29, 1906, Mesa Verde was the first cultural park set aside in the National Park System. Mesa Verde National Park was also designated as a World Cultural Heritage Site on September 8, 1978 by UNESCO, an United Nations organization formed to preserve and protect both the cultural and natural heritage of designated international sites.

Mesa Verde, Spanish for "Green Table," offers an unparalleled opportunity to see and experience a unique cultural and physical landscape. Visitors walk through cliff dwellings and numerous mesa top villages built by Ancestral Pueblo people between AD 600 and AD 1300. For general park information go to Park Information on the Internet or view the Mesa Verde Information Guide. To find out more about park's physical landscape visit the geology and geography information pages. For tour times and other services go to Park Schedule. To find out about programs in addition to guided tours look at Other Programs.

To fully enjoy Mesa Verde National Park, plan to take a day or two to explore its offerings. To best make use of your time, please go to the Visiting the Park section. For information about dining, lodging, camping and other visitor services available in the park go to The ARAMARK Services Page. For services available outside of the park take a look at the Southwest Tourism Page (Cortez, Dolores, and Mancos area - Montezuma County), or the Durango web page.

The entrance to Mesa Verde National Park is 9 miles east of Cortez and 35 miles west of Durango in Southwestern Colorado on US Highway 160. Park information is available at the entrance. Visitors will see the beautiful canyons and plateaus of Mesa Verde as they continue into the park; the overlooks provide views of the valleys below, including the towns of Cortez and Mancos.

Mesa Verde National Park offers visitors a spectacular look into the lives of the Ancestral Pueblo people. Scientists study the ancient dwellings of Mesa Verde making comparisons to contemporary indigenous people in order to make inferences about the Pueblo people of long ago. Mesa Verde visitors have the opportunity to study a wide variety of related topics.



Mesa Verde National Park

Books, maps, videos, park guides, trail guides and other materials can be purchased at The National Parks Electronic Bookstore . These materials benefit anyone interested in the park, or in related subject areas. This is a great place to start for anyone planning a trip to Mesa Verde National Park.

In addition, the book "The Story of Mesa Verde National Park" is available online for you to browse and may be purchased in the electronic bookstore. All 96 pages with illustrations and photographs have been included.

The Mesa Verde Museum Association, Inc. assists and supports the interpretive, educational, and research activities of Mesa Verde National Park and Hovenweep National Monument.

The Map: How to find the Mesa Verde National Park

Mail to: Knud-Erik Bornhardt
eller mail to: Jorn-Orla Bornhardt.
Home to the Front Page



Opdated the 4th of August 1999