The Family Bornhardtís trip to Canada
Foto's from the Country barr: "The Country Houstons Roadhouse"
Brandonís largest Dance Floor. March 1997
Change quick:
Home to the Front Page:
The Family Bornhardt's trip to Canada.
Please Note: The LO-FI sound files are in RealAudio (RA) format and average 130kb for fast downloading.
So don't be afraid. These samples are approx. 1:15sec. long and are in RA format
Lo-Fi -- Casting My Lasso
Lo-Fi -- Tonight There's A Blue Moon - Blue Plate Special, Prairie Oyster
Country Bar in Brandon:
Royal Oak Inn
- Chicago Joe's Rest. & Lounge
- Houstons Country Roadhouse3130 Victorla Ave.R7B 3H3728-5775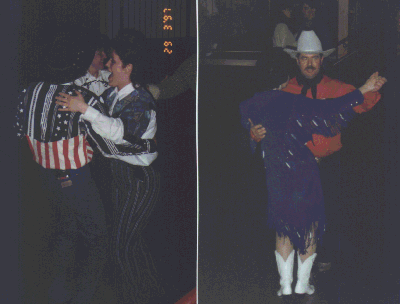 One night we drove to "The Country Houstons Roadhouse" - Brandonís largest Dance Floor. The music was Country music the first copple of hours. In this time there were young and "old" people mixed.

Many of the dancers were dressed like real cowboys with hats, jackets, shirts, ties, cowboy jeans and cowboy boots.

But later the young people took over and the music was changing to more modern music.

Unknown dancing people on The Country Houstons Roadhouse.

When we had had some beers our hostess called for the Menu Cart. They tried to get me to ordering "Prairie Oysters". They told me in canadian slang: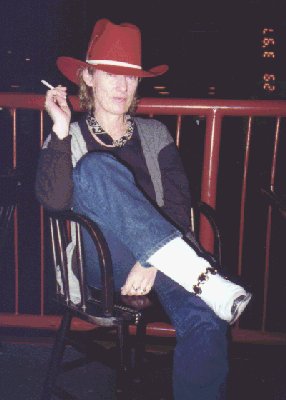 The picture to the left: Grethe Bornhardt. She looks tough.

"They Ďre new, they Ďre great
and Yup, they are tender,
if Yah know what we mean!
Donít be a chicken, have a ball!"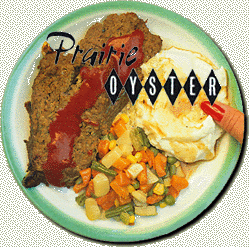 I was told it was testicles from a Hereford Bull before I dropped the idea to order this meal.
Later we found this discription in Rocky Mountains:
Best Way to Go Home With a Ball From Coors Field Rocky Mountain Oyster Co.
Why fight the drunks in the stands killing each other over that fly ball
when you can pick up one of your own at the Rocky Mountain Oyster Co.?
One of a handful of independently owned concessions at Coors Field, Rocky Mountain Oyster specializes in--that's right--bulls' testicles.
No fouls here: These deep-fried big ones hang heavy with seasoned breading and come with a huge pile of curly Cajun fries.
Remember when the only organ at the ballpark played music?
I got this explanations from my Cousin Peter from Seattle to clear up a little of that American slang about Prairie Oysters:

The story is about the "Rockies", a baseball team in Denver Colorado, that is named after the Rocky Mountains (Denver is on the eastern edge of the mountains). The term Rocky Mountain Oysters is a nickname for bull's testicles. The Coors Family, owners of the Coors Beer company, may also own the baseball team. Anyway, they paid for part of the stadium where the Rockies play, so they had the right to name the stadium.

The restaurant may be independent of the baseball stadium, but many stadiums are now placing restaurants in their upper decks so people can watch the game and eat at the same time. It is a bit expensive but a really nice time.

Cajun fries are French fries made in a spicy style of food from the New Orleans area where Cajuns live. Cajuns are originally from eastern Canada and before that from France. Cajuns speak a type of French that is several hundred years old. They brought a love of food with them and picked up many spices and cooking recipes that are very unique.

Old stadiums had organs and the organ player would play music to keep the fans excited when the game was not exciting. The word organ is also English for a part of the body. When the word is used by a sports fans, it is assumed to be a 'naughty' part of the body.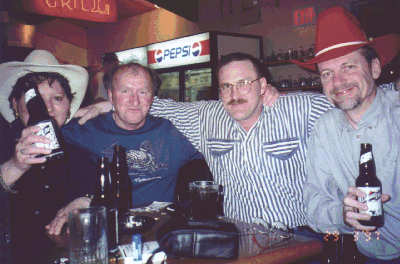 The beers were served by young girls in cowboy jeans.
Our host guy was driving the car.
Therefore he had to drink Cola - Poor Don.

From the left:
Bonnie Alston, Virden, Manitoba.
Ray (Don's brother), Brandon, Manitoba.
Don Alston Virden, Manitoba and
Knud-Erik Bornhardt.

Mail to: Cowboy Family Bornhardt
The Family Bornhardt
26. April 1998