The Family Bornhardt's trip to Canada
The Prairie in Saskatchewan, March 1997
Prairie West Artworks and our trip across the Prairie.
Change quick:
Home to the Front Page:
The Family Bornhardt's trip to Canada.
The Prairie in Manitoba and Saskatchewan.
About Sharon Larson and Prairie West Artwork.
Grain Train, by Sharon Larson.
Harvest Sky, by Sharon Larson.
Once Upon a Time, by Sharon Larson.
The Prairie in Manitoba and Saskatchewan: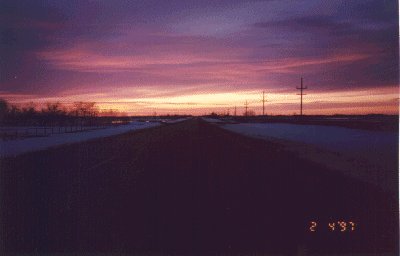 One early morning in the beginning of April we left Virden at five o'clock with an unclouded sky to go more than thousand kilometers across the Prairie to Calgary and the Rocky Mountains. The Sunrise was fantastic. See the picture besides.

We act like all the other Canadians slowly driving and drinking a big cop of coffee. We had to stop several times to get some pictures of this beautiful sky. When we made these photos we know it would be impossible to put this experience into photos. But we tried.



There were no traffic. We were all alone on the roads. We felt us like emigrants going West in the middle of last century with a wagon, horses and some cattle behind the wagon to find a place to live.

We drove by Highway 48 from Virden to Regina in the state Saskatchewan and by Highway 11 North West against Saskatoon. In the town Davidson we drove West again by Highway 44 to the state Alberta.

On this stretch we drove hundreds of kilometers across the plane Prairie almost a desert with enormous areas without any break in the terrain. If we had teased Peter before by saying he was living "thousand miles from nothing" we now had to recognize we were wrong. This was the place and not the town Virden.

On these enormous distances we passed areas covered with snow and areas with no snow, not because of the level in the terrain, there were no differences at all. Sometimes we suddenly passed a valley, which was cut down in the Prairie over a period of thousands of years by a river. These valleys could be 100 to 200 meters width and 50 to 100 meters deep. On both sides of the valley the Prairie had the same level.





Prairie West Artwork, 226 Pacific Avenue, Saskatoon, Saskatchewan, Canada, S7K 1 N9, Phone (306) 652-0111).



Pictured below is Sharon Larson.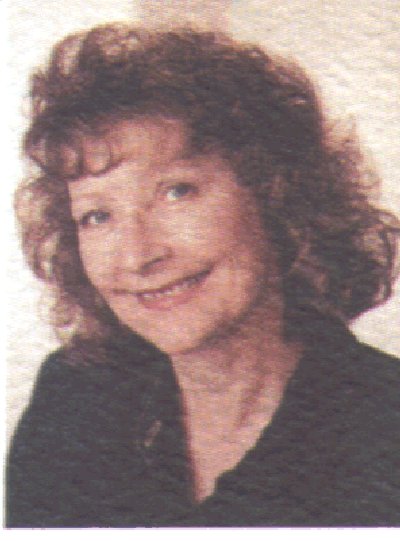 "Prairie West Artworks products contribute to the development of local talented prairie artists. Thank you for your support."

Inquiries about Sharon Larson and other Prairie West Group artists may be directed to Prairie West Artworks.

Original artwork may be viewed/purchased at Gallery on Pacific, Saskatoon, Saskatchewan.


Grain Train.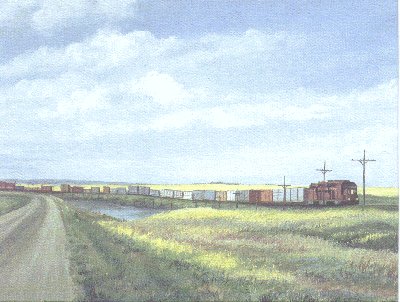 Tons and tons of steel push across the Prairies carrying the bounties of another successful year.

Often referred to as the "Grain Train", these chariots once stopped in almost every small town along the tracks.

A welcome visitor to « once barren land, the modern-day disappearance of these trains is reflective of changing times.
Harvest Sky.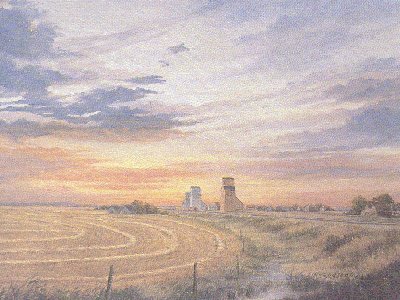 To Sharon Larson, the prairies are full of splendor, romance and beauty. Perhaps nothing can compare to the "Harvest Sky".

The perfect mix of color as the sun sets and the harvest lies at rest across the prairie landscape.
Once Upon a Time.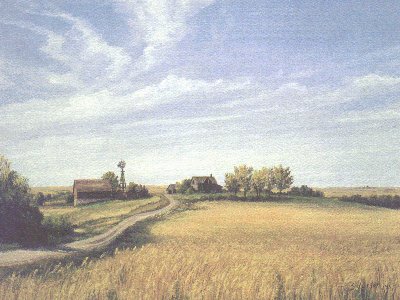 "Once Upon a Time" a man and a woman traveled a great distance across a east land to make a life together.

An incredible journey with many hard-ships, these homesteaders built a life on the Canadian Prairie for future generations.

Today, the descendants of these great people, live the dreams of their ancestors.










Mail to: Family Bornhardt
The Family Bornhardt
26. April 1998